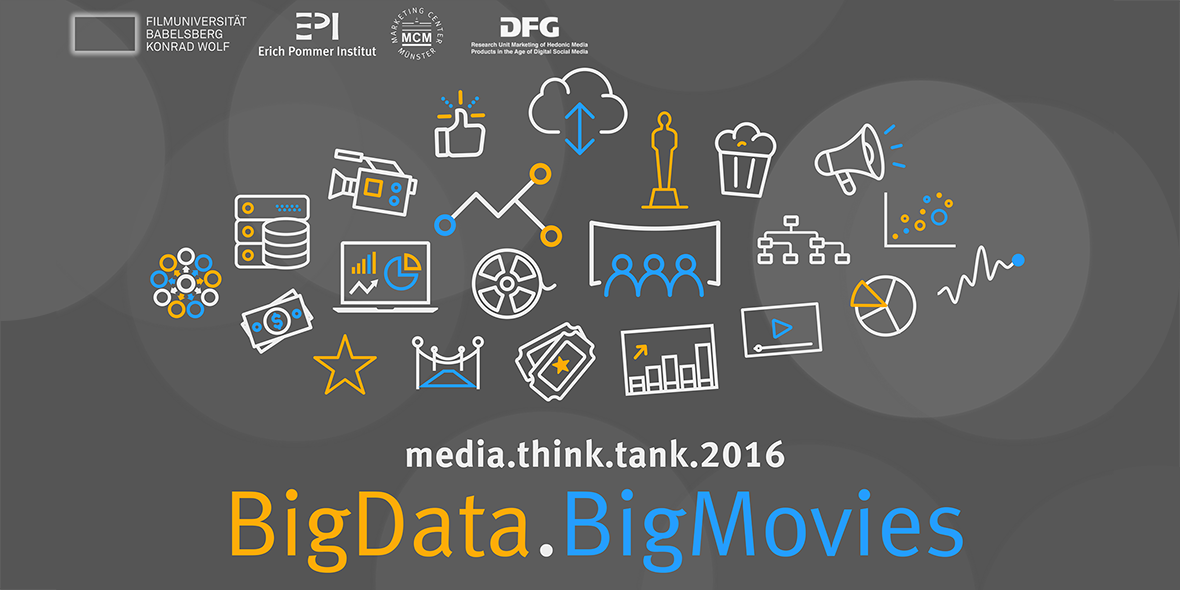 23 Sep

BigData.BigMovies

Conference BigData.BigMovies

How Algorithms Transform the Film and TV Industry

International conference on the effects of big data on the film and television industry in Potsdam and Berlin, September 22 – 23, 2016

The Film University Babelsberg KONRAD WOLF and its associated institute, the Erich Pommer Institut (EPI), in cooperation with Marketing Center Münster at the University of Münster proudly present theonference BigData.BigMovies – How Algorithms Transform the Film and TV Industry in Potsdam and Berlin on September 22 and 23, 2016.

The international event focuses on the changes in the film industry that come with data and algorithms. It brings together renowned scientists and decision makers from all parts of the media industry. Topics span from market research and marketing to strategy and risk management. Participants will also discuss open questions such as: How does access to consumer data challenge the competitive landscape of the industry? Will it change contents? Are data scientists friends or foes of the creative?

The conference will provide attendees with exclusive insights on what is possible today and inspire discussion among thought leaders on where the industry is heading. German Federal Minister of Justice, Heiko Maas, will deliver a keynote on European data legislation.

The conference consists of a SCIENCE DAY and an INDUSTRY DAY. On the first day scholars from several disciplines, including marketing, management, and economics, will showcase key and novel findings from scholarly research that can provide rich insights into what is required to produce successful films and TV shows these days. The second day offers a rare close-up by industry leaders on a business at the brink of disruption: Data and algorithms are increasingly becoming a competitive advantage as they help identifying audiences and predicting the future success of productions and campaigns. Our speakers will both share their best practices and discuss potential downsides.

The conference proudly announces – amongst others – the acclaimed experts: Colin Brown (New York University), Bernhard Engel (Research Director, ZDF Medienforschung, AG Fernsehforschung), Allègre Hadida (Cambridge University), Prof. Dr. Thorsten Hennig-Thurau (University of Münster), Frank Jastfelder (Head of Drama Production, Sky Germany), Marvin Lange (CEO, Maxdome), Sabine de Mardt (Director Fiction & Film, Warner Bros. International Television Production Germany), Jan Mojto (CEO, EOS Entertainment, Betafilm), Benjamin Vogler (Industry Manager Media & Entertainment, Germany).

Further information and registration: www.bigdatabigmovies.com

A project by the Erich Pommer Institut and the Film University Babelsberg KONRAD WOLF in collaboration with Marketing Center Münster at the University of Münster, the DFG research unit "Marketing of Hedonic Media Products in the Age of Digital Social Media" and the Cluster Management ICT, Media and Creative Industries at the Brandenburg Economic Development Board and supported by the Medienboard Berlin-Brandenburg.